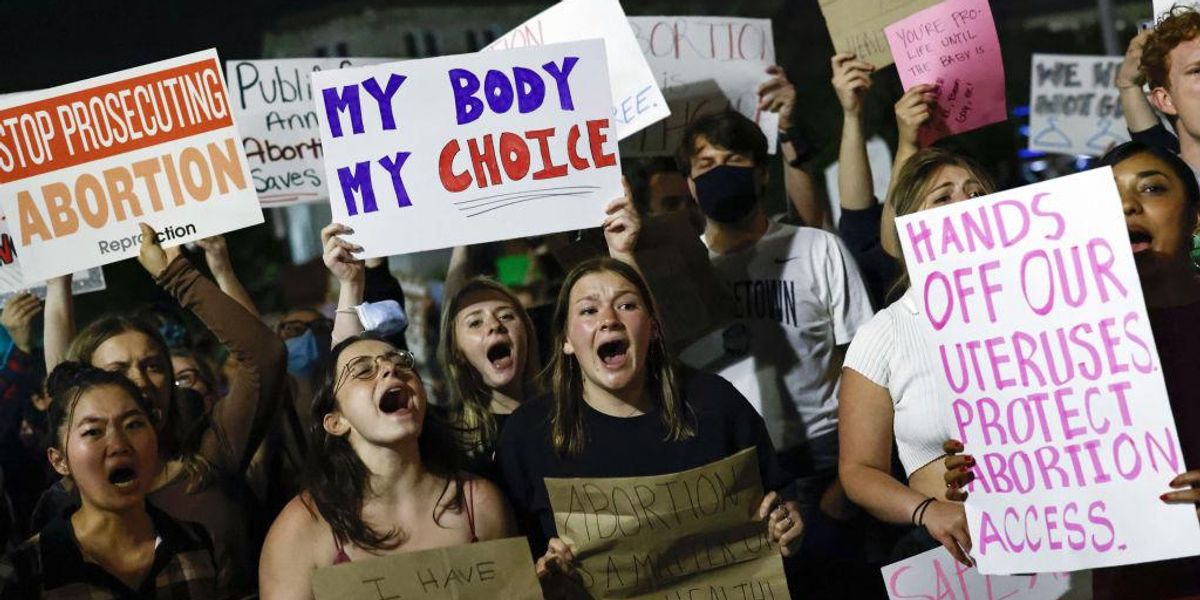 A leaked draft indicating that the U.S. Supreme Court is set to overturn its landmark ruling on abortion in Roe v. Wade sent progressive politicians and abortion advocates in the U.S. spiraling into a frenzy Monday night. But the pandemonium didn't stop at the nation's borders; rather, the reverberations could be felt around the globe.
According to VICE News, abortion activists all around the world lashed out Monday into Tuesday, lamenting over the potential "disturbing" and "chilling" consequences that the U.S. ruling could have on abortion rights in other countries and the movement at large.
"This is really bad news for the whole world," Polish abortion activist Natalia Broniarczyk told the outlet.
Hanneke van Halen, from Abortion Network Amsterdam, added in regret that "the normalisation of patriarchal violence in a world-dominating country like the US will have an impact on the reproductive rights of people everywhere."
Mandu Reid, who leads the U.K.'s Women's Equality Party (WEP), told VICE: "This is chilling news coming from the US, it is the latest disturbing attack on reproductive rights amidst a global backlash against women's equality."
Apparently, news that the U.S. had finally decided to dispel its invented notion that a woman has the constitutional right to kill an unborn child without government interference was "deeply concerning" to foreign activists.
Moreover, the fact that a majority of appointed justices would rule it better to instead return the controversial matter to the states, where elected lawmakers would decide what to do, was evidently troubling, too.
"We're talking about a handful of people — mostly conservative men — making life-changing decisions about women's bodily autonomy without their consent. But this applies to the UK too, where free, safe, and legal abortion still isn't a legal right and where underfunding leads to difficulties in women accessing contraception and abortions," Reid further argued.
Sarah Shaw, head of advocacy for MSI Reproductive Choices, a global pro-abortion group, expressed fear that if Roe v. Wade is overturned, "it would be the biggest setback to women's rights in the U.S. in a generation and deeply concerning for global reproductive rights."
Together, many of the activists expressed support for the speedy codification of abortion rights in countries where such is possible. The same idea was posited in the U.S. by Democratic politicians — led by President Joe Biden — as a way to protect women's ability to terminate pregnancies without punishment.
In a draft decision obtained by Politico on Monday, Justice Samuel Alito, writing for the majority, said, "We hold that Roe and Casey must be overruled," referring to two separate decisions that enshrined and upheld abortion rights.
Alito went on to call Roe "egregiously wrong from the start."
"Its reasoning was exceptionally weak, and the decision has had damaging consequences. And far from bringing about a national settlement of the abortion issue, Roe and Casey have enflamed debate and deepened division," he continued, adding, "It is time to heed the Constitution and return the issue of abortion to the people's elected representatives."
View original article here Source