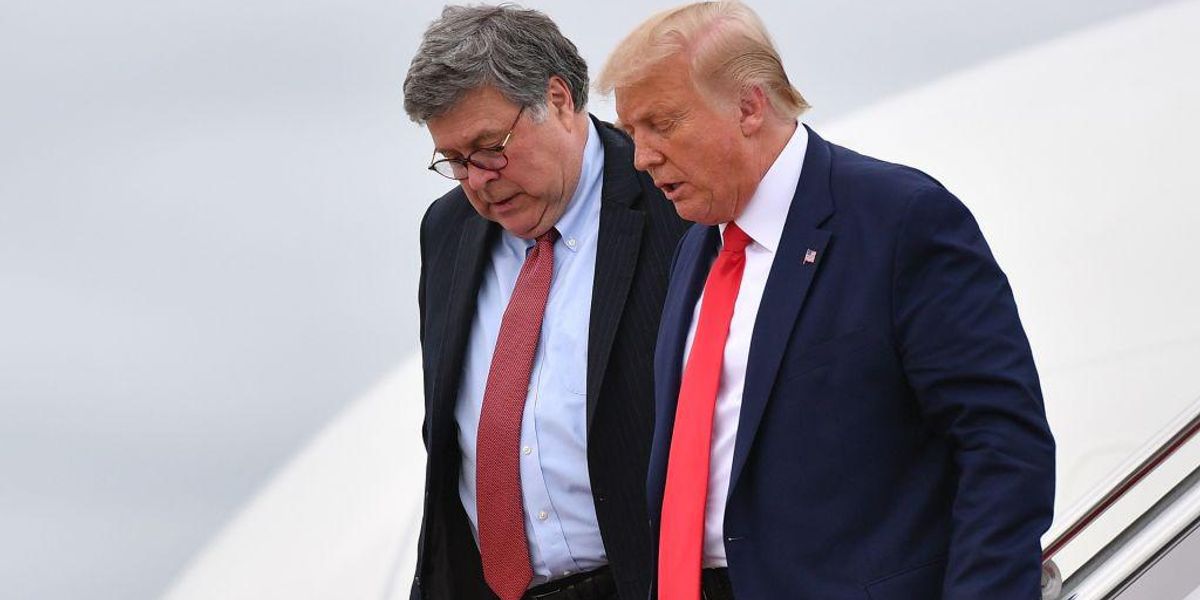 Former attorney general Bill Barr told his boss, ex-President Donald Trump, that the legal team Trump had assembled in 2020 to prosecute his case claiming the presidential election was "stolen" and a "clown show" was feeding the American people "bulls**t," in a heated confrontation in December 2020.
The details of that conversation come from an excerpt of Barr's upcoming memoir shared by the Wall Street Journal. Before his account of the meeting with Trump and several of the president's senior advisers, the veteran Department of Justice chief gave reasons why he made the now-infamous comments to an Associated Press reporter on Dec. 1, saying, "To date, we have not seen fraud on a scale that could have affected a different outcome in the election."
Back then, Barr's statement put him at odds with the president and members of Trump's legal team including Rudy Giuliani and Sidney Powell, who had made extraordinary claims of widespread voter fraud in the election that purportedly robbed Trump of victory. Trump's lawyers had asserted that a "national conspiracy" of voter fraud took place, including unsupported allegations that vulnerabilities in voting machine manufacturer Dominion Voting Systems hardware caused votes to switch from Trump to Joe Biden, tilting the outcome of the election. Dominion vigorously denied the allegations and has taken Giuliani, Powell, and others to court in a $1.3 billion defamation lawsuit.
After the former attorney general said there was no evidence to support the accusations of widespread election fraud that would have changed the outcome of the election, his relationship with Trump and reputation with Trump's supporters was permanently damaged.
According to Barr's account, claims that the election had been stolen through fraud were grossly exaggerated, and the Justice Department lacked the authority to investigate state-level election issues when there was no evidence that a crime had been committed.
"I had no doubt there was some fraud in the 2020 presidential elections. There's always some fraud in an election that large," Barr writes. "But the Justice Department had been looking into the claims made by the president's team, and we had yet to see evidence of fraud on the scale necessary to change the outcome of the election."
He explained that data suggested Democrats had abused COVID-19 pandemic-related rules to make changes to state election procedures in order to boost turnout through extended voting periods and eased access to mail-in voting. Throughout 2020, Barr had been a consistent critic of mail-in voting, warning that widespread voting by mail could create "opportunities" for election fraud.
"There was also no question that, in some areas, state rules meant to guard against fraud—for example, the requirement that voters file applications for mail-in ballots—were not followed. This also increased the opportunity for fraud," Barr writes. "Still, the opportunity for fraud isn't evidence of fraud."
He also explained that state governments and localities are responsible for developing election rules. The federal government cannot intervene when someone claims that local election rules aren't being followed. Those claims have to be brought to state officials and settled in state courts.
"The Justice Department does not have the authority or the tools to perform that function. Instead, its role is to investigate specific and credible allegations of voting fraud for the purpose of criminal prosecution. A complaint just saying the rules were not followed is not enough," Barr wrote.
In cases where there were specific criminal allegations, federal investigators found the claims to be "patently frivolous" or unsupported by available evidence, Barr said.
As for other allegations of election irregularities, the Justice Department lacked the authority to pursue them, which led to accusations from Trump that the DOJ was "missing in action." However, the responsibility to go after state election irregularities rested with Trump's lawyers, who in Barr's words, were "feeding his supporters a steady diet of sensational fraud claims, without anything resembling substantiation."
It was during a Dec. 1 meeting, after Barr had publicly commented on the lack of evidence of widespread fraud, that the attorney general gave the president his frank assessment of the competence of his legal team.
Barr was called to meet with Trump in the West Wing. The president's then-Chief of Staff Mark Meadows and White House counsel Pat Cipollone were also in attendance, as was Deputy Counsel Pat Philbin and White House lawyer Eric Herschmann.
The meeting was unpleasant. According to Barr's recollection, Trump angrily accused him of intentionally undermining the argument that Biden's win was illegitimate. The president allegedly accused Barr of hating him, which the attorney general denied, calmly explaining that federal law enforcement can't go hunting for election fraud where there isn't any.
"The department is not an extension of your legal team. Our mission is to investigate and prosecute actual fraud. The fact is, we have looked at the major claims your people are making, and they are bulls**t," Barr said he told Trump.
He pointed out that the arguments Trump's lawyers were making in court didn't actually allege there was fraud, despite public statements from Giuliani and others saying there was. When Trump protested, Barr gave it to him straight.
"'Mr. President,' I said, 'the reason you are in this position is that, instead of having a crackerjack legal team that had its s**t together from day one, you wheeled out a clown show, and no quality lawyers who would otherwise be willing to help will get anywhere near it.'"
As it turned out, that assessment was shared by the courts. Trump's lawyers and his Republican allies in various states filed 62 lawsuits challenging the results of the 2020 election. They were defeated in 61 of those lawsuits, in some cases for lack of standing and in others for failing to substantiate the voter fraud allegations. The lone victory came from a Pennsylvania judge who ruled that approximately 2,100 mail-in ballots that were delivered after the deadline shouldn't be counted. Biden defeated Trump in Pennsylvania by roughly 54,000 votes.
View original article here Source